Belong with SEU Student Highlight — Decision Day 2023 
For many high school seniors, there comes a point when you have to make the decision of whether to commit to a college, and which one. For Rynna Burgbacher, Southeastern University wasn't always her first choice, but came to be the place where she knows she belongs. This is her story on her journey to SEU and the opportunities that led her here. 
The First Sign
Rynna grew up as a pastor's kid, where big conferences were a common event for her. At these conferences she would often hear about SEU, but wasn't interested at the time. A big school was her dream. 
As the end of high school approached, she knew she had to make a decision soon, but where did she want to go? Which school would best suit her? She received her first sign that God was pointing her to SEU when she attended a college fair at her high school. SEU happened to be one of the booths, and after the fair, her guidance counselor called her to tell her she had won a rare golden ticket, which would allow her to take a trip to visit SEU with most of her expenses covered. 
The Tour 
During her visit, Rynna began to fall in love with the campus. Her passion for videography and photography had already made it clear to her that majoring in Multimedia Journalism would be ideal. Her favorite part of the tour was Bolin Studio located in the Barnett College of Ministry & Theology building. As they showed Rynna around the studio, she was in awe of all of the equipment they had: cameras, backdrops, editing software, and computers. The best part was that all these resources were accessible to all students —even to freshmen like Rynna. As she learned more about the resources provided for creative students, and about the care professors have for their students, she began to realize that SEU was where she belonged.  
Financial Aid 
Now that Rynna was decided on SEU, she began to worry about how she would be able to afford to come. But, she was soon mailed an award letter and her enrollment counselor helped her discover the many financial aid resources and scholarships that SEU offers to help offset the cost.
Becoming a member of the SEU School of Honors, which offers additional scholarships, was another beneficial opportunity for her both financially and academically. On top of her academic scholarships, she was also informed about student leadership scholarships and campus jobs. The one that interested her the most was with We Are SEU, a creative, student-led organization that creates reels and social media posts for the student body about all things related to student life. The student worker job was with SEU Creative, the marketing department at SEU, which gives students the chance to make videos, do photoshoots, and write for the school's social media accounts and website. 
What could be better than financial aid resources aligned with your calling? It's the best of both worlds, and as Rynna continued to have doors opened for her in this area, it was a confirmation from God that she should apply to SEU. So, she did.
Getting Involved 
After getting accepted into SEU, saving her spot, and making her plans to arrive on campus, it was time for Rynna's college experience to begin. In high school she was very involved and served her student government as their historian (the person in charge of advertising and recording events through videos). Because of this, she knew she wanted to come to SEU to not be just another student, but a student involved in the community. 
"I wanted to come to SEU and be one of the creative people taking videos of welcome week and other school events. I wanted to be 'that camera girl!'" And Rynna did become that camera girl. 
Creative Opportunities
During the first week of school, a welcome week event called "The Underground" was happening in The Furnace (our basketball and volleyball facility), with a luau theme. Rynna and a friend of hers came in with pineapple sunglasses and began to capture pictures of multiple students wearing them. At the end of the event, she compiled a reel and posted it on her Instagram, tagging SEU's account. 
"I was hungry to create and to be a part of the team, so I made the video, posted it, and We Are SEU reached out to me asking if I wanted to be on their team!" This was the moment Rynna realized that being a part of the community at SEU was going to help her accomplish her dreams. 
Shortly after beginning the position at We Are SEU, she began volunteering with SEU Creative and was soon hired as a student videographer, getting paid to do what she loves while earning her degree. 
 "Opportunities continued to fall into my lap, and as long as I was willing to work hard to pursue my dream, SEU gave me the space to do so. The teams I'm a part of push and train me to expand my skills. They allow me to be free creatively, while also coming alongside me to give feedback and navigate my organizational skills."  
Where Dreams Become Reality 
As Rynna continues to grow in her creativity, she encourages others to do the same. When she was a senior in high school, she was scared and worried about how college would go for her and if she would choose the right place. As time progresses and the end of her freshman year nears, she could not have been more in awe of how she did not choose SEU, but SEU chose her. It's where she belongs, and it's where she can create. 
If you are unsure and emotional about starting college like Rynna was, she wants to encourage you with these words.
"Take one day at a time, and if you trust what God has for you, it will be laid out in His time. God will open the right doors for you and close the wrong ones. If He opens one, take it! And if it aligns with your dream, why would you wait? The right doors will be a design for your life, and if you say yes and enroll, the rest will follow." 
Decision Day is May 1!
So, why not join students like Rynna and create with SEU, too? Visit SEU.edu/withSEU to take your next steps and discover more about how you Belong with SEU.
Learn More 
Belong with SEU (Decision Day)
School of Honors 
Scholarships
BA in Multimedia Journalism
Get Involved 
Rynna's Videos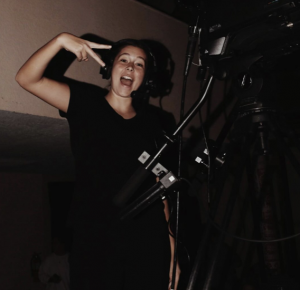 Here's a sampling of some of the videos Rynna has created just this year!
Check out the student highlights that are being featured on SEU's social media for Decision Day this month to see more of Rynna's work.
Written & edited by SEU students Alexa Estevez & Mia Golding