When you think about going on a mission trip, most people think of traveling internationally and visiting places like Belize, Cuba, or Africa. Most don't think to go to domestic locations, especially to a small town in the Midwest like Huntington, Indiana. I didn't even plan on going on another trip after my spring break mission trip to Washington State. Our time in Washington ended up being something that neither me nor anyone on my team expected. It was beautiful and incredibly humbling, and when it came to an end, I knew that the Lord was preparing me for something — I just didn't know what. So, when one of my leaders from the Washington trip told me she was leading a summer trip to Indiana and that she thought I should join the team, I took a leap of faith and said yes. I knew the Lord wanted me to go to Indiana when I  miraculously received funding for the trip just hours before the deadline. 
I didn't know just how small Huntington was until I arrived. But as soon as I met the people there and was told what we would be doing over the next ten days, it became clear to me that this is what the Lord was preparing me for over the last few months prior to the trip. And this small town had a significant impact on not only the community there, but also on myself and my team. 
The Awakening Church

During our time in Huntington, we worked alongside The Awakening Church, the Indiana Dream Center, and the Boys & Girls Club, all of which are closely knit together. We spent the week living on Huntington University's campus with the youth and young adults of the church. Each day of Hope Week began at 8:30 a.m., and we would all come together for breakfast and a time of prayer and worship to prepare ourselves for the day ahead. Pastor Ashlyn, the lead pastor of the Awakening, and a few other adults from the church would give us lessons in evangelism, storytelling, and understanding the people and culture of the town. These times were crucial because we were not only able to pour into and disciple the youth, but we were being poured into and discipled as well. 
Hope Week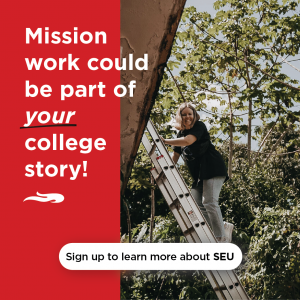 My team and I got to take part in the Awakening's Hope Week which was a week dedicated to serving the community in any capacity. The first day of Hope Week, we went to downtown Huntington, where we helped clean up the streets and storefronts of local businesses in preparation for Huntington's 58th Annual Heritage Days Parade, which would occur at the end of the week. We ended the day with fellowship over dinner, a worship night held at the Awakening, and a prayer walk around the church campus where we prayed over the church, the city, and the people. On the days that followed, we did things like serve at Love INC, where we got to help organize and clean the food pantry there, put together bags of clothing to give to the homeless at the Indiana Dream Center's thrift store, and get to know and love on children of different backgrounds at the Boys & Girls Club. 
This was also the week that the fair came into town, so we took the initiative of meeting the needs of the fair workers in any way we could as they set up all of the rides. This included handing out hygiene packs and cold water while also asking them if there was anything we could pray for them for right then and there. We even had a grill set up on the street corner of the Dream Center where we grilled hot dogs and gave them out to whoever wanted them, with a cute little sign set up that said, "Free hot dogs, water, and prayer." It was inspiring to see the youth and young adults of the church so willing to serve and to do so with fervor. When the fair opened to the public and all of the other weekday festivities leading up to the parade began, we went out and did some street evangelism. 
Street Evangelism

Street evangelism looks a lot different today than it did years ago. When I used to think of street evangelism, I thought of the people who stand on street corners with large signs, aggressively screaming at people to "Repent!" But that's not at all what we did. 
A large part of evangelism is about understanding the culture and language of the place you're in and how to best reach the people there in a way that they can understand. Sometimes evangelism starts with a simple conversation and making the person feel seen and loved. One such testimony from this trip is an encounter we had with a man named Ralph. 
Ralph's Story

Ralph is someone we met on our first day of doing evangelism. At this point, we were all nervous, since we had never done street evangelism before. 
When we first approached Ralph, he was sitting on a bench on the street corner across the street from his apartment building. We offered him a cold bottle of water and told him a little bit about what we were doing. When we asked if there was anything we could pray for him about, he laughed and told us that we could pray for cooler weather, as it was extremely hot outside. We smiled and prayed for what he asked, before telling him goodbye and that we would probably see him again at some point. 
We saw Ralph again two days later. Huntington was having their annual downtown car show and we were out doing some more street evangelism — this time a lot more confident than we were when we first started. Ralph was sitting on that same bench — almost as if he never left. One of my team leads and I made our way over to him. If I could have read his thoughts in that moment, I imagine they would have been something along the lines of, "Here are those random college girls from Florida coming to bother me again." 
We started a simple conversation with him, asking him things like how he was doing and if he was having a good day. He made a comment about how the weather was really nice that day because it had finally started to cool down. As the conversation went on, CJ, one of our adult contacts from the church, came over to join the conversation. 
As we continued to talk with him, Ralph noticeably became more relaxed and started opening up to us. He told us that he was 77 years old and had moved to Huntington three months ago. He also told us that he had just gotten out of prison a year ago after serving 45 years for a crime he didn't commit. While in prison, he had to battle cancer and then had to deal with shingles because of the chemotherapy. The left side of his face also swelled up to the point where he couldn't wear his prosthetic eye anymore (he lost his left eye in an accident when he was 20 years old). 
As Ralph told us his story, we could feel nothing but compassion and hurt for the man sitting before us. Knowing what it's like to be on a bad path, CJ started to share a little bit of his testimony with Ralph and spoke of who Jesus is and what He did for him, and where trusting the Lord has brought him in the last 22 years. We could see that Ralph was intently listening to what CJ had to say. At the end of the conversation, he asked Ralph if he wanted to take that step and accept Jesus. It was like we were all collectively holding our breaths in the seconds it took Ralph to answer. 
When a soft, resounding "Yes" came out of his mouth, we all exhaled in relief and started to cry tears of joy. 
Ralph came to church with us that Sunday and told us that he felt a peace beyond understanding, a peace that only Jesus could give him. We encountered many people like Ralph that week, and even if all of them didn't accept Jesus like he did, it was still an amazing experience to speak with people from all walks of life and to be a witness to them of who Jesus is. This is just the tip of the iceberg of the ways in which the Lord moved in Indiana.
Kingdom, Honor, and Excellence 
The purpose of the Awakening's Hope Week was to work toward fulfilling the Great Commission and to restore hope to a community of people who may have felt like there was none. I believe that the Awakening fulfilled this purpose and not only restored hope to many members of the community, but to my team and myself as well. 
SEU Missions holds firm to these three values: Kingdom, Honor, and Excellence. The Awakening, and the people who call this church their home, are a beautiful combination of all three. 
They embody Kingdom mindset in the way that they live their lives in complete obedience and surrender to the Lord and the Holy Spirit. 
They showed Honor in the way that they strive to meet the needs of others before meeting their own. Never have I seen a church and people so hospitable and full of love for others. Almost all of them have families and own businesses, yet they were so willing to sacrifice all of their time to be with us through Hope Week. Even after they spent a whole day serving the community, they then made it a priority to serve us and invite us into their homes, breaking bread with us almost every night of the ten days we were there. 
And they embody Excellence in the way that they give nothing less than their best to the Lord and all that He calls them to do. The Church should feel like home no matter where you go, and being in Indiana, we felt both at home and like family to the people there. The Awakening is a wonderful example of what the local church should look like and has inspired us deeply.
The Impact
Those ten days in Indiana have opened our eyes to what it means to live missionally in our day-to-day lives, and what it means to love Jesus and love people. We learned about the importance of the local church and saw firsthand what it should be like, and that sometimes, missions take place right in your own backyard. As Christians, we have a mandate to go out into the world and make disciples. The Great Commission is not an option — it is just as important now as it was when Jesus first gave it to us. 
This is His story. We are honored to just be a part of it.
For more information on SEU Missions and their trips, checkout SEU Missions on Instagram! To get more information about enrolling in SEU, visit this page.
Learn more
SEU Missions
Spiritual Life at SEU
Hoskins School of Mission
Apply to SEU
By Mia Golding, Student Writer